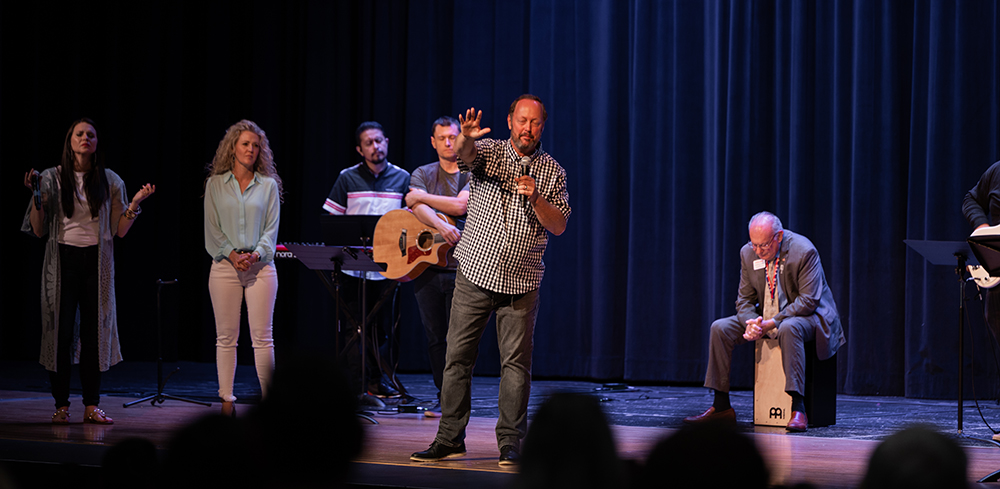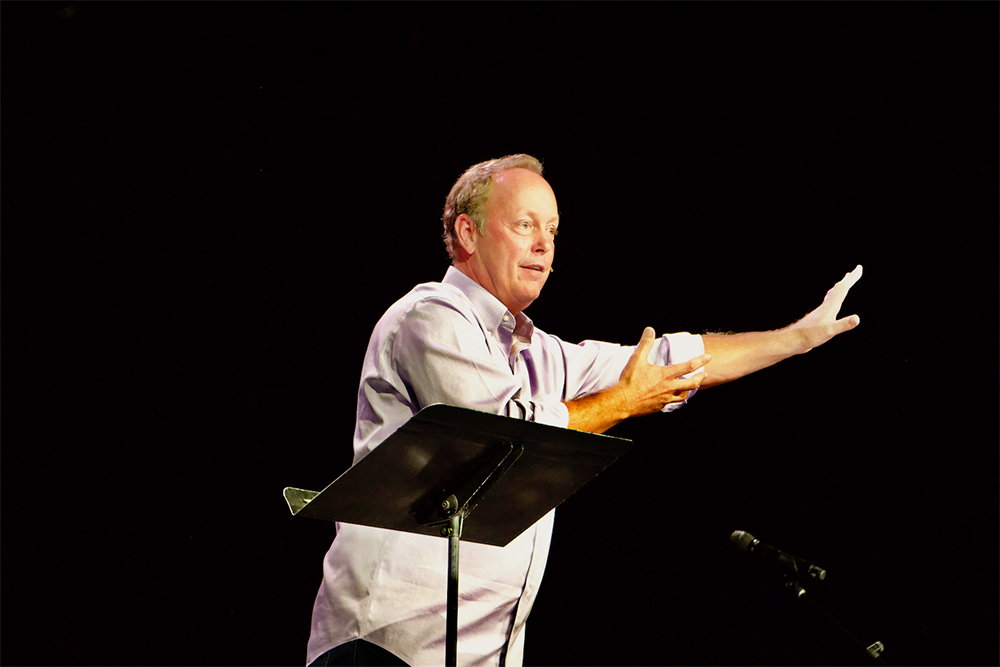 While Crossroads Impact Church's particular definitions are important to its position, it is readily recognized that they do not define orthodoxy for the whole body of Christ. Crossroads Impact Church gladly embraces all who faithfully adhere to the essentials of biblical Christianity as fellow believers and colleagues in Christ's cause.
Whereas biblical Christianity is defined by the central tenets of the faith, throughout the history of the church various groups have employed more specific definitions to define themselves.
To maintain continuity and consistency with the heritage entrusted to its care, Crossroads Impact Church expects all positions of leadership, administration, and staff to agree with, personally adhere to and support these doctrinal distinctives as noted above and defined in the following Statements of Faith.
WE BELIEVE IN ONE GOD, revealed as the Father, Son and Holy Spirit eternally existing in perfect unity. Each member of the Godhead, while executing distinct but complementary roles in redemptive history, has precisely the same nature, attributes, and essence, and is equally worthy of glory, praise, honor, obedience, and worship.
Deuteronomy 6:4; Exodus 34:6-7; John 17:3; Matthew 28:19-20; John 1:1-4; Acts 5:3-4
WE BELIEVE GOD THE FATHER is the eternal, unchanging, completely just, perfectly holy, creator and sustainer of all things for the purpose of His sovereign will. He is omniscient, omnipresent, and omnipotent.
Psalm 103:19; Psalm 145:8-9; Romans 11:36; 1 Corinthians 8:6; Ephesians 1:3-12
WE BELIEVE JESUS CHRIST, the eternal Son, in accordance with the will of the Father, took on human flesh. In His incarnation as Jesus Christ, He was conceived of the Holy Spirit and born of the virgin Mary. He, being fully God and fully man, exemplified a sinless life, sacrificially shed His blood, and died on the cross in our place accomplishing redemption for all who place their faith in Him. We believe in the resurrection of the crucified body of Jesus Christ, our Lord, in His ascension into Heaven, and in His current presence there as our King, High Priest and Advocate from which He will one day return to establish His Kingdom on earth for all eternity.
John 1:1, 14, 18; 14:6, 8-14; Ephesians 1:22; 1 Timothy 3:16
WE BELIEVE THE HOLY SPIRIT is the Spirit of God, fully divine. He inspired holy men of old to write the Scriptures. He convicts all of sin, of righteousness, and of judgement. He draws the unredeemed to repentance and faith, and at salvation indwells the new Christian with His counsel and brings that person into union with one body of which Christ is the head. He gives Christians the ability to see Truth. The Holy Spirit empowers Christians for Christ-like living and bestows upon them spiritual gifts in service to the Kingdom.
John 14:16-31; 16:8-16; Romans 8:9-17; 12:4-8; 1 Corinthians 3:16; 12:4-6; Galatians 5:25; Ephesians 4:11-12; Titus 3:5; Hebrews 2:1-4
WE BELIEVE THE BIBLE to have God for its author, salvation for its end, and truth, without any mixture of error, for its matter. Scriptures were written by holy men divinely inspired and is God's revelation of Himself to man. They are a perfect treasure of divine instruction.
Exodus 24:2-4; Deuteronomy 4:1-2; 17:19; Joshua 8:34; Psalms 19:7-10; 119:11,89,105,140; Isaiah 34:16; 40:8; Jeremiah 15:16; 36:1-32; Matthew 5:17-18; 22:29; Luke 21:33; 24:44-46; John 5:39; 17:17; Acts 2:16; 17:11; Romans 15:4; 16:25-26; 2 Timothy 3:15-17; Hebrews 4:12; 1 Peter 1:25; 2 Peter 1:19-21
WE BELIEVE THAT SATAN is the instigator of evil and a real spirit being, not simply the personification of evil. He is a fallen angel who, under the sovereign permission of God, has been given temporary rulership of the earth. He was utterly defeated at the cross, but the execution of his judgment has been postponed by God until after the Millennial Kingdom when he will be cast into the eternal lake of fire. In the meantime, he deceives the world and seeks to establish his counterfeit kingdom on earth to discredit and blaspheme God and to tempt, accuse, attack, and destroy Christians. He can be resisted by the Christian through faith and reliance on the power of the Holy Spirit.
Genesis 3:1-5; Isaiah 14:12-17; Ezekiel 28:11-19; Job 1-2; 1 John 5:19; 2 Corinthians 11:14; 1 Timothy 3:6; James 4:7; 1 Peter 5:8-9; Revelation 12:9; 20:1-3
WE BELIEVE THAT HUMANITY was created in the image of God by direct act of God and did not come into being as the result of evolution. Humanity was created to glorify God in worship and service, and to enjoy fellowship with Him. Tempted by Satan, sin was introduced into the world by humanity's choice to disobey God resulting in death and condemnation for all. All of humanity, therefore, is totally depraved by nature and by choice. Humanity has no means in and of themselves to overcome the alienation from God and is in desperate need of the Savior.
Genesis 1:26; 2:7,17; 3:17-24; Isaiah 59:1-2; Luke 18:26-27; Romans 3:9-19; 5:8; Ephesians 2:13
WE BELIEVE SALVATION is only available by the grace of God through the sacrifice of God the Son, Jesus Christ.
1. All humanity has sinned and is thus disqualified from God's presence.
2. Nobody can redeem themselves, not by works, merit or any other means.
3. God has absolved humanity of sin with the substitutionary sacrifice of the fully obedient innocent life of Jesus Christ. Redemption and reconciliation with God the Father is available by claiming Jesus Christ as personal Savior.
4. All who confess and repent of their known sin and by faith received the Lord Jesus Christ as their personal Savior receive God's gracious gift of salvation.
WE BELIEVE AT SALVATION a Christian is made a new creation by the Holy Spirit, declared righteous before God, and secured as an adopted child of God forever. Genuine faith continues in righteousness and love with a life eager to glorify God and persevere to the end.
Genesis 1:26-30; 2:5,7,18-22; 3; Psalms 1; 32:1-5; 51:5; Jeremiah 17:5; Matthew 16:26; John 1:12-13; 3:1-7; 10:27-29; Acts 17:26-31; 26:20; Romans 1:16,19-32; 3:10-18,23; 5:6,12,19; 6:6; 7:14-25; 8:14-18, 37-39; 10:9-10; 14:6; 1 Corinthians 1:21-31; 2 Corinthians 5:17, 21; Ephesians 2:1-22; Colossians 1:21-22; 3:9-11; 1 Peter 1:3-5
WE BELIEVE THAT EVERY CHRISTIAN should live for Christ and not for themself and should, by the power of the indwelling Spirit, allow Christ to manifest His life through themself to God's glory. By ever increasing obedience to the Word of God, each Christian should mature and progressively become more like Jesus. In the power of the Spirit, each Christian should live a holy life which may be recognized by their fruit;
1. Deny the lusts of the flesh
2. Exercise spiritual gifts to build up the body of Christ
3. Witness for Christ
4. Be personally involved in making disciples to fulfill the Great Commission
5. Perform good works, bearing fruit to the glory of God
Deuteronomy 4:1,5,9,14; 6:1-10; 31:12-13; Job 28:28; Psalms 119:11; Proverbs 3:13; 4:1-10; 8:1-7,11; 15:14; Ecclesiastes 7:19; Matthew 5; 7:24; 28:19-20; Luke 2:40; John 15:8; Acts 1:8; Romans 6:11-13; 1 Corinthians 1:18-31; 2 Corinthians 5:14-15; Galatians 2:20; Ephesians 2:10; 4:11-16; Philippians 4:8; Colossians 1:10; 1 Timothy 1:3-7; 2 Timothy 2:15; Hebrews 5:12-6:3; James 1:5; 1 Peter 1:15-16; 2:11; 4:10-11
WE BELIEVE THAT THE CHURCH is the body of Christ of which Jesus is the Head and whose members are those who have truly proclaimed Jesus Christ by faith as Lord and Savior. The local church is a tangible expression of the body of Christ in a particular location. All members of the church are united in Christ by the same Spirit and hence are called to live in love, harmony, and unity, being intent on the same purpose and practices which are based on a sincere interpretation of the Bible. The purpose of the church is to make Jesus Christ known to the lost, make disciples, and glorify God.
Matthew 28:18-20; John 17; Acts 1:8; 1 Corinthians. 12:12-27; Ephesians 1:20-23; 4:1-6, 12-16; Colossians 1:24-29
The Vision of Crossroads Impact Church
What we, the people of Crossroads Impact Church are called to do.